Module:Nomad Gods
From Vassal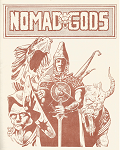 Files
Filename
Filetype
Size
Date
Compatibility
0.3
NomadGods03.vmod
module
24.56 MB
2012-09-15
3.1.16
Module Information
| | |
| --- | --- |
| Maintainer | Scott |
| Contributors | Scott |
Comments
This is a module for the Gloranthan boardgame Nomad Gods, published in 1977 by Chaosium. The module creator would like to thank Greg Stafford for his kind permission to distribute this module.

For more information on this game, check out its BoardGameGeek page and Mr. Stafford's background notes.
[Note: Greg's website seems to have been taken down; link to an archived copy of his boardgame page: https://web.archive.org/web/20130121202034/http:/www.weareallus.com/chaosium/boardgames.html]

Please note that Nomad Gods is a copyright of Issaries Inc., and is used with the permission of Issaries Inc. and Moon Design Publications.

VERSION NOTES:
0.3 - Map has been prettied up by removing fold lines (thanks to Steve W. for this).
0.2 - Removed spaces in image file names that caused issues on some platforms.
Screen Shots
Players