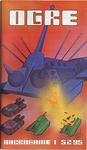 Files and Module Information
VASSAL is not allowed to host this file or provide external links to the module in accordance to the wishes of the present Copyright Holder(s)
Comments
If you would like to see a module of this game made available please contact the Copyright Holder(s) to change their policy
Steve Jackson's classic game of future tank warfare. There are three modules available:
-Ogre Module I allows players to play any scenario from Ogre, GEV, Shockwave, Reinforcement Pack, or Battlefields.
-Ogre Module II is no longer supported.
-Ogre Module III provides improved graphics and gameplay, as well as digital recreations of maps G1-G3 and S1-S3 for colour uniformity and proper hexgrid alignment. Four complete factions are included in unique colour schemes: Combine, Paneuropean, Black Rose Mercenary, and Nihon NA Division. A large number of Overlays are available to customize existing maps or build a GEV-style map from the ground up. Be sure to read the companion help file for an overview of the module's features. The same information can be accessed through the module's Help menu / Quick Start.
Version 1.1 contains miscellaneous minor bug fixes and counter corrections.
Version 1.2 adds counters representing the Vatican Guard, Sons of Old Nassau, and the Anarchist Relief Front for use with the Barbarians at the Gate expansion; recovery from Disabled by fire or ramming is now fully automated when using the Turn Tracker; an option to "highlight" a target unit in a stack has been added; a new window for tracking VP's and eliminated units has been added; the chat window now reports the actual die number rolled in addition to the symbolic value when using the symbolic odds dice
Read the Ogre-GEV Deluxe Notes in the module Help menu for more info!
Screen Shots
Players
zass
DerDiplomat
AmbassadorALV
glasper
usapatriot1963
fenris
dgarsys
richburb
dylango
mawiker
Pabu
LordJesse
hopfrog
shmcbee
PeteWC
yangtze
nwright
Awfki
h3rne
PaulRein
Netzilla
nickwarcholak
Takaholic
Shirrick
Herodian
Shadoglare
Rindis
Richard Krafty
Mycenae
Ogreslayingknife
DMarcus7
ChaosWolf
Dan67
Red Falcon