Module:Operation Mercury: The German Airborne Assault on Crete, 1941
From Vassal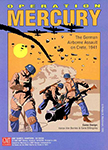 Files
Module Information
| | |
| --- | --- |
| Maintainer | Jean Philippe Biron |
| Contributors | Vance Von Borries & Tony Curtis |
Comments
PUBLISHED 1992
DESIGNERS Gene Billingsley, Vance Von Borries
DEVELOPER Tony Curtis
ART DIRECTOR Rodger B. MacGowan
MAP ART Mark Simonitch
COUNTER ART John Kranz, Gene Billingsley, Rodger B. MacGowan
RESEARCH Vance von Borries
VASSAL MODULE Jean Philippe Biron
DESCRIPTION
In the spring of 1941, the German Blitzkrieg crushed the Balkans, rapidly overrunning Yugoslavia and Greece. The battered remnants of the defeated Allied armies evacuated to the island of Crete and prepared to defend it. Faced with the threat of air attacks from the Allied air bases on Crete and pressed for time, men and equipment on the eve of Operation Barbarossa (the invasion of the Soviet Union planned for June), Adolf Hitler decided to launch a lightning air assault to take Crete: Operation Mercury!
On May 21, 1941, German paratroopers, brave tough, battle-hardened and with esprit-de-corps second to none, formed the spearhead of Hitler's daring airborne assault. Hastily assembled, these elite troopers jumped into an unexpected maelstrom of fire and lead that decimated their ranks.
For the next eight days, the depleted airborne forces, bolstered by a reinforcing Mountain Division, were locked in a gripping life-and-death struggle against fierce resistance from the defending British, Greek, Australian and New Zealander troops.
When it was over, though Germany prevailed, over 7,000 German soldiers, including one in four paratroopers, lay dead on the battlefield. Operation mercury was a German victory, but a Pyrrhic one at best. Adolf Hitler was so shocked by the heavy German losses on Crete that he never deployed his elite paratroop units again in a major airborne operation.
Operation Mercury allows you to recreate this bitter struggle for Crete at company/battalion level. The game system, based on Gene Billingsley's award-winning GMT Operational System which first appeared in Silver Bayonet, Operation Shoestring and Air Bridge to Victory, allows for multiple combat options. The system also takes into account unit morale and efficiency as well as formation strength when resolving combat.
Text taken from Operation Mercury game page on GMT Games website.
VASSAL MODULE (v1.0)
A very first VASSAL module for this old hidden gem by Gene Billingsley & Vance Von Borries.
You can download the Rulesbooklet (updated October 2019) including the errata of August 14th, 1995 as well as many clarifications from my discussions with Vance and Tony.
You can also download the Module User Guide to familiarize yourself with the module and its specificities. This User Guide is also accessible via the Help menu of the module.
There are a lot of automated features to make the game more fluid and enjoyable to play. Thus, a number of interactive features are directly executed from the right click menu of pieces, the DRMs being taken into account, and the effects take place automatically, such as:
Rolls for efficiency checks
Paradrop and Amphibious Drifts
Air readiness
Naval Reffiting
Victory Points Track
Map buttons displaying Ports
Supply Status Adjustment
Game Turns
Air Interdiction Level effects
Control Markers
etc...
Allied naval units are accessible only to the allied player and a blind game system was designed to be faithful to the game. A system for "revealing" units is provided when needed, so the originality of the system "Detection and Naval Search" is preserved. In the same way, the allied player does not really know where the German Luftwaffe gonna strike.
Useful new Markers and new Player Aid Cards have been added and many other features to make the game more pleasant.
If you notice errors, omissions, misprintings, bugs, wrong setups or anything else please fell free to contact me by email and report it to me. I will make the corrections accordingly. Thank you.
Jean Philippe
VASSAL MODULE (v1.1)
Revised version of the VASSAL Module v1.0.
Updates, changes and improvements:
"Combat Result" Right Click Menus are now active when a unit is fatigued.
Right Click Menus for units in Retimo/Heraklion sectors are now accessible on Game Turn 1.
Changed how a unit Declare Attack. The unit is marked with an "Attack" Marker. Delared Attack Markers (Arrow) are now only available in the "Combat Markers" palette (Main Menu).
Now units can rotate. Useful to identify units attacking different hexes from a single hex.
Added a button to Highlight Arty units. Useful for locating at a glance Artillery units.
Pieces selected as Lead Unit or performing Assault or Maneuver Combat are now reported.
Added new Paradrop Markers (DRM -2 and DRM -3)
Added a Notes Window in the Main Menu (ALT N).
Corrected a malfunction when Campaign Option #3 is triggered for HQ.
Restriction (4.62) now also apply to units in Retimo/Heraklion Sector.
Added a new Rules Summary more detailed in the Help Menu.
Corrected some minor bugs.
Also added updated Rulesbooklet and Module User Manual.
This version is compatible with all vlog or vsav files from the previous version v1.0. So you can play v1.0 games with this module version. You just have to refresh counters (in the tool menu) just after having downloaded the old vlog or vsav.
Special thanks to Craig Truesdell for his help in improving the module.
Jean Philippe
VASSAL MODULE (v2.0)
Revised version of the VASSAL Module v1.1.
Updates, changes and improvements:
Wheeled/Armor/Lt Armor units have now a Red Cadre Box
Automatically reseting Motorisation (Allied Opt.#3) on AM Turns.
Optimization of the speed of execution of many automations.
Arty and HQ units can now be chosen as Lead Units.
You can now reset individually (in the "Other" right click menu) Interdicted units that come into an off Map Box or into a sector with an Interdiction Level of 0.
Automatically reseting Interdiction Level to 0 when going on another Game turn.
Also added updated Rulesbooklet and Module User Manual.
CAREFUL!!: This version is not compatible with all vlog or vsav files from the previous version v1.1. So you cannot play v1.1 or earlier games with this version module. New games must be started with this version and both player should use the same version.
Jean Philippe
Screen Shots
Players