Module:Pax Renaissance
From Vassal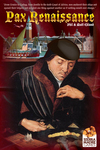 Files
Module Information
| | |
| --- | --- |
| Maintainer | Donegal |
| Contributors | Donegal,Stan Hilinski |
Comments
Version 5: I completely overhauled the module. I split it into two versions, one for 2-4 players and a second for solo play. I strongly urge you to click and and read "Help / Pax Module Explanation" for information on what the options are and how it all works.
In version 4, I stripped out a special feature for Solo play because people were having errors when not playing Solo. This version is incompatible with earlier versions.
Version 3.1 adds the 5-card BGG promo as an option. I also fixed a small bug in the Inventory.
Version 3 adds a Solo feature. In Solo, you play multiple sides. It is NOT a solo game against an AI or robots. I added a bunch of other features to make playing the game easier. See the v3 PDF. (sch)
Screen Shots
Players