Module:Paydirt
From Vassal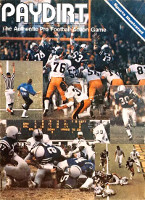 Files and Module Information
Change Log
Comments
Link to Paydirt on BoardGameGeek:- https://boardgamegeek.com/boardgame/1498/paydirt.
Please read the in-game help file for information on the special features of this module.
There are only 2 team sheets included in the module - 1967 Green Bay & Dallas (the 'Ice Bowl' teams) - but players can use any paper or electronic copies of team sheets they have.
The 'Paydirt_DDF_Super_Bowl_LVII_0.3' extension contains the final release versions of team sheets for Super Bowl LVII - provided by Data-Driven Football (http://www.datadrivenfootball.com).
Screen Shots
Players