Module:Pendragon
From Vassal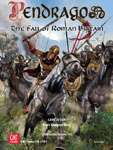 Files
Module Information
Version 1.2 automates counting of control totals. The control trackers only seem to update whenever another tracker is updated, or when the "End Faction Play" is pressed. The control markers must be updated whenever the population for their regions update. It also takes out the cards noted as optional in the rule books for the "Harder they Fall" and "Petty Tyrants" scenarios.
Version 1.1 adds capability to Dal Riada event whereby user may place Scotti settlement.
Comments
Please read the module instructions below before emailing with questions. Thanks!
Module Instructions:
1. You will need to use VASSAL Engine version 3.2.17 or higher to use this module.
2. To create the deck, press deck creation button on the far-right of the screen that corresponds to the scenario you wish to play. The button will generate the deck which will appear on the bottom-right side of the main map screen. All unused cards are deleted as are the deck creation buttons.
3. A right-click on Population shields produces a menu to expedite placement of many game pieces.
4. Settlements may only be placed by right-clicking on the settlement spaces on the map.
5. Control is NOT automated in this module. Adjust control space-by-space manually.
6. "Foederati" markers are built into the Saxon and Scotti pieces: Right-click to mark with either red or blue Foederati.
7. "Population" markers are built into each space. Each space will allow Pop to go as low as 0 or as high as its starting Pop + 1.
8. Use the far-left side of the main map as a place to hold cards with Momentum or Capability. Right-Click on cards with Momentum/Capability trait to mark with an appropriate marker.
9. In accordance with GMT's wishes, we will not be including the Solitaire game charts in the module. Thank you for understanding!
10. Prosperity is not automated. Player must track prosperity manually.
11. To draw cards from the deck press the "Draw Card" button on the toolbar. Pressing this button will shift the card from the "Upcoming" slot to the "Current" slot on in the card play area on the left side of the main map window. Pressing the "End Card Play" button will discard the current card as well as rearrange the eligibility cylinders. I've made it so that you can also draw cards manually and still use the End Card Play buttons in the game. Epoch card draw will automatically move to "Current" and former "Current" card will move back to "Upcoming."
12. Toolbar buttons can be used to move Resource pawns, Dux Prestige, Civitates Wealth, and Prosperity markers on the general record track.
Enjoy!
Known bugs with version 1.1
None yet.

© GMT Games 2017; Marc Gouyon-Rety Design
Screen Shots
Players