Module:Pizza World
From Vassal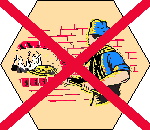 Files and Module Information
Filename
Filetype
Size
Date
Compatibility
Developer
Other Contributors
0.1
PizzaWorld_Mar_19_2017.vmod
Module
1.95 MB
unknown
3.2.17
{{{2}}}
{{{2}}}
Comments
Players are master pizza makers looking for the finest ingredients in a market. Each player is given several shopping lists of ingredients to collect. Unfortunately with a limited number of ingredients in the market, getting the ingredients you need may not be easy, especially if another player got there first. Pizza World is a game about completing as many personal and shared shopping lists as possible and remembering where you last saw an ingredient - although they might not be where you thought. Make friends, or not, as you compete for the ingredients you need.
Unique/Game features - Set collection - shopping lists - Memory of where tiles are - they are turned face down when a shopping list is claimed
Please e-mail me for information and/or times you might want to try it out with me.
andrewjhaigh (AT) gmail (DOT) com
I'm trying to balance test this game, rules and cards. I would appreciate the help! :)
This just a demonstration of an unpublished game. The rules can be emailed, but will be included in later versions.
This Vassal version of the game will support 2 players but the finished game supports up to 6. This is also not all of the cards in the Core set.
Version History:
BETA
0.1: Original release
Future Release Features (in no specific order):
1. Rules
2. More players
3. New vassal specific "how to play" document
4. More cards
5. Art? (I need artists! Contact me if interested)
Screen Shots
Players