Module:Queens' Gambit: The War in Italy, 1742-1748
From Vassal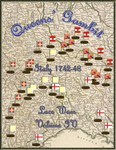 Files
Module Information
| | |
| --- | --- |
| Maintainer | Miguel Angel Sanchez |
| Contributors | Miguel Angel Sanchez |
Comments
Version 1.88
A few improvements over Version 1.85. Strengh Force Values shown optionaly on the units and Blockade markers can be drawn directly on board via a Leader option.
Version 1.85
New improvements. New Habsburg HQs display with some Italian Minors available to the Habsburg side and fixed matching HQs counters. Not compatible with saved games from previous versions.
Version 1.6 with some fixes.
Same file as below but with one major issue fixed; the hidden "numbers" gave an incorrect display of stacks to the Habsburg player. Now the fix makes numbers pieces hidden to each player; if you want to see the hidden counters of your allied, you'll have to share passwords.
Available for download here
Version 1.6
Missing bottom of the map fixed (now the map is full sized, to the city of Naples).
Also available for download here
Version 1.5
New outlays incorporated to units. Changed stacking configuration. Some units fixed (some backs were missing or misplaced). Some other fixes. Name changed so no longer opens same room on Vassal server as old versions, but saves are still compatible, though I recommend changing the old units. The General setup Sav is still under the old version.
Also available for download here
Version 1.1
New fixes over Beta2. HQs now finaly work properly. Numbers markers work too and are reduced to one counter type, called "number" in markers panel.
Screen Shots
Players