Module:Raid On St. Nazaire
From Vassal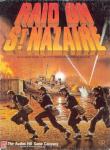 Files
Module Information
| | |
| --- | --- |
| Maintainer | E |
| Contributors | E, rdmorss |
Comments
Raid On St. Nazaire v0.97b
At the request of a module user, I have made the following tweaks:
Added board image with white connecting lines; player can choose white lines or black.
Added gun 222A to initial deployment and Pieces window.
Fixed infinite loop when advancing VP indicator with left arrow key.
Changed game log: boat 63/64 (ML298) now has 2 guns, instead of 1 gun and 1 torpedo.
Guns and searchlights can now be moved.
Fixed bug regarding guns "already fired" status.
Added markers for guns: "Disrupted" and "Out of Action" status.
rdmorss
Raid On St. Nazaire v0.97*
Last Update: 6 Jul 2006
(* All my initial releases start at v0.95 as an ode to Murphy's Law)

Version 0.97 (never rush out a fix moments before leaving for work!)
1. Fixed log victory point menu.

Version 0.96 (never rush out a module!)
1. Fixed movable log entries. 2. Fixed blue 5 die roll image.

Version 0.95
Initial Release
Screen Shots
Players
E
tmccarron
ArmedMedic
rdmorss
PrivateParts
Tarawa43
PeteHat
JeffGeorge
Razor
LordJesse
Gevalle
jackflash61
bdgza
Plutone
davidk64
etopp62
Belisario