Module:Rebel Raiders on the High Seas
From Vassal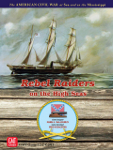 Files
Module Information
| | |
| --- | --- |
| Maintainer | Joel Toppen |
| Contributors | Joel Toppen |
Comments
GMT Games 2013; Mark G. McLaughlin Design
Version 1.3 Update:
Made cargo counters smaller so they don't obscure MPs when stacked on ships.
Added Load/Unload functionality to Blockade Runners. Load will dispatch a cargo piece.
Added individual "Draw Cards" buttons to each hand window.
Added mouse-over zoom to hand windows.
MODULE NOTES:
1. Port, Fort, and City spaces on the map have right-click functions that can dispatch pieces to that space.
2. Some Confederate cards say to reshuffle into deck at the end of the next turn. I've created two "deck" spaces to aid in staging these cards back into the deck.
3. Named ships are generated either by: (a) if it is a new ship like the CSS Virginia, right-click on the event card to generate the piece; or (b) if an event turns a generic ship into a named ship (i.e. USS Tyler), right-click on the generic piece to turn it into the named ship and then back to the generic ship after the battle.
Screen Shots
Players
Joel Toppen
John Longstreet
Kevin Rohrer
Tim Stevenson