Module:Red Poppies Campaigns: The Battles for Ypres
From Vassal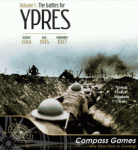 Files
Module Information
| | |
| --- | --- |
| Maintainer | Stephen Oliver |
| Contributors | iam2509 |
Comments
Ypres Version 1.1 - coversheet and combat units reduced in size to enhance playability.
Ypres Version 1.2 - Spent units now easier to identify; marked now with a Red - White border.
Ypres Version 1.3 - Fixed a marker placement error in 3rd scenario.
Ypres Version 1.4 - Updated vassal icons
The Red Poppies Campaigns (RPC) game series simulates brigade-sized engagements from WWI on a tabletop with maps and counters. Each volume in the series covers a different battle with stand alone scenarios and campaign games made up of connected scenarios. RPC is based on and very similar to the original Red Poppies (RP) game. However, RPC rules have been reorganized for clarity and augmented to allow campaign games.
https://boardgamegeek.com/boardgame/195232/red-poppies-campaigns-battles-ypres
Screen Shots
Players
iam2509
John Gorkowski
Pierre Miranda