Module:Reluctant Enemies: Operation Exporter – The Commonwealth Invasion of Lebanon & Syria, June-July, 1941
From Vassal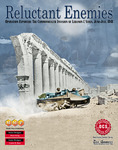 Files
Module Information
| | |
| --- | --- |
| Maintainer | John Rainey Jeff Coyle jeux12sl |
| Contributors | Herman Wu, Myk Deans |
Comments
Version 1.13 - Corrected Combat Markers bug, so that they always display on top of counter stacks. Added keyboard shortcuts to dice roll functions. Updated keyboard shortcut summary sheet, moved it under Help menu as pdf. On main map, changed piece select highlight to red border. Back-end revamping of Prototypes for OCS markers.
Version 1.12 - Minor corrections to scenario setups.
Version 1.11 - Incorporated Sub-menus to better organize drop-down menus for land/air/sea units. Added Combat Markers to facilitate PBEM. Streamlined text option of displaying step losses. Added reference sheet of commonly used keyboard shortcuts.
Version 1.10 - Eliminated duplication of pull-down menu Delete commands for Trainbusting/Interdiction markers.
Version 1.09 - Minor back end updates to eliminate error messages.
Version 1.08 - Minor adjustments for v3.6.x compatibility without generating error messages.
Version 1.07 - Upgraded to v3.5 to enable Map Flare functionality. Decreased size of Mask graphics to obscure less of the counter area for the friendly player. Upgraded Inactive aircraft marker to be more visible. Added Inventory-all button on top of existing Inventory-Map button.
Version 1.06 - Added Fog of War functionality, so that players can now Mask all his counters as desired, except for Exploit and Out of Supply markers. Also added counter highlighting functions. Ongoing game vsav files from v1.05 will NOT be compatible with this version.
Version 1.05 - Fixed bugs in unit masking function.
Version 1.04 - Fixed counter errors
Version 1.03 - Fixed counter errors
Version 1.02 - Allows units to toggle Mark When Moved. Also now sends CW to returnable units box. 4.3 charts added.
version 1.01 no FoW has : - Correct allied setup - possibility to mask airplanes, to show only the top airplane in stacking. Update made by jeuxsl12.
Version 1.0 no FoW has all custom Java code removed.
This is the last OCS module developed by George Hayward. It has all of the 13.7 FoW routines included. Most likely the last of the FoW modules. Please email me if you need any help with the module. Use the about module function under the Vassal Help menu to get started.
Screen Shots
Players
Ricky Gray
Treespider
Norman Harman
Jeff Coyle
Ulv Miller
AmusingTitle