Module:Revolution!
From Vassal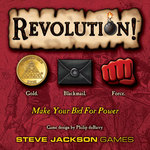 Files
VASSAL is not allowed to host this file or provide external links to the module in accordance to the wishes of the present Copyright Holder(s)
Comments
If you would like to see a module of this game made available please contact the Copyright Holder(s) to change their policy
Version 2.0:
Anarchy and Palace expansions added.
Board and menu reconfigured to remove clutter and fit expansions.
Module-usage instructions in Help Menu.
Help Menu has links to available Rule Books located on sjgames.com.
Version 1.2: Make your bid for power!
Screen Shots
Players