Module:River of Death: Battle of Chickamauga, September 19-20, 1863
From Vassal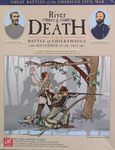 Files
Module Information
| | |
| --- | --- |
| Maintainer | Allen Dickerson |
| Contributors | Allen Dickerson, Jason Stewart |
Comments
2.0 Updated module to fix several issues extant in the 1.x versions and to upgrade to 3.5.x compatibility. One feature NOT reflected from the 1.0j3 and 1.0j4 modules are the dynamic SP markers. I'll have to make that a project for later, or perhaps Jason will add it.
Toggleable SP marker(s) now included
Fatigue markers have been added.
Abandoned Artillery markers have been added.
Combined more informational counters, such as the two Refused Flank counters, into one
OK fatigue level banners added to the right-clickable unit menus.
Out of ammo progression edited to reflect current system's -2/OUT formula.
EMs: Mask functions now working for owning player and Observers.
AM's can now be flipped, to hide their identity in the draw kepi.
The Glass Mill extension map now has its own hex grid and position reporting.
Bragg +1 counters have been added to the Bragg Effect markers.
The Reynolds AM now properly displays 4/XIV in the menu and chatbox.
Added Map Overview window
Added PBEM markers; combined Game Markers and PBEM Note markers into tabbed panel.
Changed counter rotation right-click commands to remove them from the NumPad and place them on Ctrl+,/Ctrl+. .

1.5 - Updated module to incorporate various changes to GBACW system rules and in other modules for this series. As a start, counter rotations were moved from the NumPad to use the Ctrl-,/Ctrl-. keystrokes. Some markers have been combined or upgraded. Ammo depletion flags were changed to the more recent -2/OUT progression. SP counter/marker added, as legibility is a big issue with these small, 60px-square pieces.
Also, the Rock of Chickamauga scenario was added.
1.0j4 - bugfix: added missing ammo depletion/out of ammo flags
1.0j3 - Module update with new on-counter flags for reduced clutter, better visibility (ageing gamers with bad eyesight). Also includes new scenario, "The Rock of Chickamauga".
Screen Shots
Players