Module:Robotech: Cyclone Run
From Vassal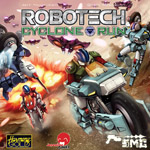 Files and Module Information
Filename
Filetype
Size
Date
Compatibility
Developer
Other Contributors
1.0
CycloneRun.vmod
module
6.18 MB
2020-8-12
3.2.17
LordRaidor
Comments
The alien Invid have conquered Earth and it's a race against time for the Rebels to reach Reflex Point, the heart of the Invid! Using luck and skill, explore the planet destroying as many enemies along the way as you can!
In Robotech: Cyclone Run, you'll roll dice to draft different Robotech Heroes, allowing you to move your Cyclones across the 3x3 tile cassette, scoring points for each Invid ship you destroy and location you discover along the way. Who can do the most to save Earth?
Robotech: Cyclone Run is a small area, fast-playing, competitive dice-based game, and sequel to Robotech: Ace Pilot. The game takes minutes to learn and can be played almost anywhere. Your favorite Robotech heroes help you destroy the Invid invaders and race to Reflex Point!
(-Description from Publisher's Website-)
Feel free to leave feedback on the module talk page [here]
Module posted with full support and permission from Quinn Washburn (designer) and Strange Machine Games (publisher).
Version History
1.0 - Initial Vassal release: Includes 1-player variant rules from boardgamegeek.com and automation to simplify solitaire play
Screen Shots
Players