Module:Saipan: The Bloody Rock
From Vassal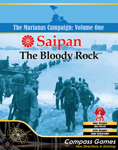 Files
Module Information
| | |
| --- | --- |
| Maintainer | Nigel Rabbetts |
| Contributors | Ross Mortell, Adam Starkweather, Wig Graves |
Comments
Saipan: The Bloody Rock is the first game to utilize the new Company Scale System (CSS) by Adam Starkweather.
v1.03 includes the following updates:
• Updated LVT unit values and added Hero Cpl Gabaldon per Tinian
• The "Highlight Active Units" button now works with the Direct Command Chits, activating all units of that side
• Added several additional information markers (Note, KT-X, and KY-O (The KT Markers are transparent X's and O's for those not familiar with them)
• Increased/Decreased DG markers are now at same location in stack (don't automatically go on top)
• Moved Naval & Air Support Chits to Turn Display for the Invasion Scenarios (reduce confusion for new players)

v1.02 incorporates minor corrections.

v1.01 includes the following updates:
• missing US Support Weapons in Scenario 5 reinforcements added

v1.00 includes the following updates:
• hotkeys added to the toolbar buttons
• additional highlighter added so that when an active unit is selected the highlight is yellow
• facility to highlight active units, leaders, etc. (turned on and off by buttons on toolbar)
• facility to show in command radii for selected unit (turned on from right click menu of unit and turned off by toolbar button).
Screen Shots
Players