Module:Samurai Battles
From Vassal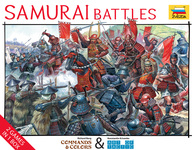 Files
Module Information
| | |
| --- | --- |
| Maintainer | LurchBrick, AleCrespi, G1ul10 |
| Contributors | David Millette, Todd Rewoldt, Eric Neszpaul for unit art, Simon George for summary sheets, StevenE on BGG. |
Comments
Samurai Battles is the latest game in Richard Borg's Command & Colours line. It takes the C&C formula and applies it to the Feudal Japan era.
This is the first fully featured version, so please play and let us know of any bugs that you find or any feature requests you may have.
Includes all the base game scenarios and new scenarios posted by Richard Borg.
For older versions please click here
Genpei War
version 0.4: Added all 30 scenarios and reference cards for the new terrains. Ignore warnings about version mismatch when you load the included scenarios: they are fully playable. For specific rules about new terrains and units refer to the original document
version 0.2: Added unit and reference cards. Added Command Tent guards. Include 5 scenarios of the Genpei Wars.
The "Genpei War" extension collects a few extra terrain tiles and units to play the scenario designed by Brent Stevens. For more information and a rich historical backgound see [1]. Art by StevenE and earache.
Screen Shots
Players
LurchBrick
Mark McG
G1ul10
Tal S