Module:San Marco
From Vassal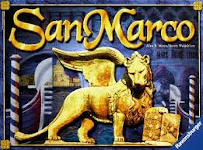 Files
Filename
Filetype
Size
Date
Compatibility
1.10
San_Marco_v1.10.vmod
Module
24.39 MB
2020-09-06
3.3.2 ..... NOTE: fixed for using with VASSAL v3.4.0
1.9
San_Marco_v1.9.vmod
Module
24.39 MB
2020-05-27
3.2.17 ..... NOTE: buggy using with VASSAL v3.4.0
Module Information
| | |
| --- | --- |
| Maintainer | groovyclam |
| Contributors | groovyclam |
Comments
Description
VASSAL implementation of San Marco published by Ravensburger and designed by Alan R. Moon and Aaron Weissblum.
The game is a territory control game set in Renaissance Venice. A novel mechanic of one player deciding on card hands defining actions for all the players but getting to choose their hand last, after all the other players, makes for an interesting rule twist. The game is easy to learn and plays quite quickly. Some think the game can suffer from "analysis paralysis" but this can easily be remedied by applying a 2 or 3 minute time limit to the player deciding on the card hands.
Although designed for 3 or 4 players the game is much better when played with only three players.
Suggestions or Feedback
This is my first attempt at programming a game in VASSAL - any feedback would be appreciated.
Screen Shots
Players