Module:Secret Hitler
From Vassal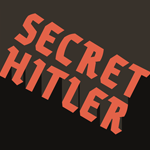 Files
Module Information
| | |
| --- | --- |
| Maintainer | Denty |
| Contributors | TgamesPi |
Comments
Game Creators Tommy Maranges, Michael Boxleiter, Mackenzie Schubert & Max Temkin. Many Thanks to these guys, the hilarity that ensues from playing this.
This game was originally creater under A Creative Commons Attribution-NonCommercial-ShareAlike 4.0 International License
Rulebook (will be implemented into the game soon)
Setup Guide (will be implemented into the game soon) This is an early working version of Secret Hitler and setup is a bit of messing around
Basic Setup All players need to take a player counter (pieces menu) and name it and place on a chair. Take a Ja and a Nein Card and put it in your player inventory. Place the Liberal Policy Sheet and correct Fascist Sheet onto the table.
Everyone take turns to take a role card from the appropriate stack (it currently needs a background to define them far left is 5 players, far right is 10) and place it in their inventory. Take the party membership card based on your secret role.
Fascist/Hitler Setup Use the retire function to temporarily switch teams to Fascist or Hitler. Put a new player counter into Fascists Lobby/Hitler Zone and name it. Fascists get to see who Hitler is (note if only 5 players the Fascist should use Hitler Zone also. Switch back to your player slot.
Final Setup Role the dice based on the number of players. The result is the chair that starts off as president.
Let the games begin

0.2 Hotfix
Added Zoom functionality to Player hands
Fixed rotating flipped candidacy boards
0.3 Hotfix
Policy Cards now flippable regardless of who drew it
0.4 Bugfix
Defult zoom and functionality added to role cards window Bug fix for 0.3 where policy deck was face up
0.5 Hotfix
Added the ability to have 19 players
Screen Shots
Players