Module:Semper Fi
From Vassal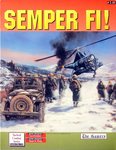 Files
Module Information
| | |
| --- | --- |
| Maintainer | JanWels |
| Contributors | cmmccallum, forester, JanWels |
Comments
Semper Fi! - Changchon - No Name Ridge - Hagaru - Fox Hill
10 june 2006; Posted v1.0 of Fox Hill module. This version should work fine under Vassal 2.6.4. as opposed to the old one. With right-clicking a unit you enter a sub-menu containing most of the available unit actions.
V1.0 of the remaining modules will follow shortly.
11 june 2006; Added the other upgraded modules, Changchon, Hagaru and No Name Ridge. Enjoy! 16 june 2006; V1.1 posted. Fired and Dug-in markers are now 'real' markers instead of a layer.
Screen Shots
Players
toshikazu
cmmccallum
forester
tippecanoe8
tinG
kankoviak
Wargamer777
jwboone62
motoi
jwels
Liuka
daxelos