Module:Set a Watch
From Vassal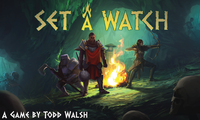 Files
Filename
Filetype
Size
Date
Compatibility
1.0
Set_A_Watch_1.0.vmod
module
17.96 MB
2020-03-11
3.2.17
Module Information
| | |
| --- | --- |
| Maintainer | gattsu |
| Contributors | |
Comments
The Kingdom is in grave danger. Powerful enemies are conspiring to resurrect the vile and powerful Unhallowed that your party has just slain. Now you, the mighty adventurers of the land, must visit these summoning locations and defeat the hordes of creatures behind this evil plot. It falls to four mighty adventurers, each of whom has a unique set of skills, to band together once more to vanquish this evil before the Unhallowed consume the world in darkness.
Version 1.0 This is the first Version of a Vassal module for "Set A Watch"
© 2019 Rock Manor Games. All rights reserved. Included by permission of the publisher
Please support Rock Manor Games!
Screen Shots
Players