Module:Sicily: Triumph and Folly
From Vassal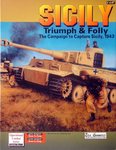 Files and Module Information
Comments
Version 2.18 Adjustments in folder structure to facilitate access to generic unit counters for both sides.
Version 2.17 Minor adjustments to ensure v3.6.x compatibility without generating error messages.
Version 2.16 Upgrades to v3.5 to enable Map Flare functionality. Mask graphics decreased in size to obscure less of the counter area for the friendly player.
Version 2.15 Adds Fog of War feature, so that players can mask all their desired pieces, except for Exploit and Out of Supply markers. Ongoing vsav files from v2.14 should be compatible by using Counter Refresh feature if using v3.3.2 (an error message will appear if using v3.4.x).
Version 2.14 Fixed a bug preventing Axis MUF markers from flipping back from their Fueled sides.
Version 2.13 A bug affecting Step Loss markers has been fixed. This version is only compatible with Vassal v3.3.
Version 2.11 A bug preventing the new Interdiction markers from being able to be removed has been fixed.
Version 2.1 A complete rebuild using recycled map and counter graphics from v1.x, while incorporating the latest standardized features of OCS Vassal modules, including counter highlighting and new Interdiction/Trainbusting counters. v1.x vsav files will not be compatible with v2.1.
Version 1.3 Hex grids have been modified to include separate holding box zones for more player options in using on map holding boxes. Stack separation settings, default zoom level, and mouse-over display settings also modified.
Version 1.2 Includes all 8 scenario setups, incorporating latest errata from Sep 2019.
Version 1.1 Includes Guderian's blitzkrieg II replacement units - redrawn of counters to better distinguish company, bataillon and brigade - action added to counters (possibility to hide/mask) - some scenarios setup added
Screen Shots
Players
Cogust
GregD
pmiranda
Preacher
crward
Cherper
motoi
Benedetto70
robarrieta
vrobinson
supersolid
Arlecchino
Jeff67
Seydlitz
jimcot
daxelos
Tom Beach
eclecticdog