Module:Sicily: Triumph and Folly
From Vassal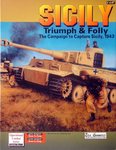 Files and Module Information
Filename
Filetype
Size
Date
Compatibility
Developer
Other Contributors
2.22
Sicily_V2.22.vmod
Module
36.27 MB
2023-02-05
3.6.11
Herman Wu
Jeff Coyle, Myk Deans, Dean Essig
2.21
Sicily_V2.21.vmod
Module
36.18 MB
2023-01-06
3.6.9
Herman Wu
Jeff Coyle, Myk Deans, Dean Essig
2.20
Sicily_V2.20.vmod
Module
36.17 MB
2023-01-05
3.6.9
Herman Wu
Jeff Coyle, Myk Deans, Dean Essig
2.19
Sicily_V2.19.vmod
Module
39.77 MB
2022-11-06
3.6.7
Herman Wu
Jeff Coyle, Myk Deans
2.18
Sicily_V2.18.vmod
Module
39.51 MB
2022-03-28
3.6.5
Herman Wu
Jeff Coyle
2.17
Sicily_V2.17.vmod
Module
40.09 MB
2021-12-11
3.5.8
Herman Wu
Jeff Coyle
2.16
Sicily_V2.16.vmod
Module
40.09 MB
2021-08-22
3.5.8
Herman Wu
Jeff Coyle
2.15
Sicily_V2.15.vmod
Module
39.94 MB
2021-01-03
3.3.2
Herman Wu
Jeff Coyle
2.14
Sicily_V2.14.vmod
Module
39.91 MB
2020-09-18
3.3.2
Herman Wu
Jeff Coyle
2.13
Sicily_V2.13.vmod
Module
39.9 MB
2020-08-06
3.3.2
Herman Wu
Jeff Coyle
2.11
Sicily_V2.11.vmod
Module
39.91 MB
2020-08-03
3.2.17
Herman Wu
Jeff Coyle
2.1
Sicily_V2.1.vmod
Module
39.91 MB
2020-07-27
3.2.17
Herman Wu
Jeff Coyle
1.3
Sicily_V1.3.vmod
Module
11.52 MB
2019-11-08
3.2.17
jeux12sl
GregD Herman Wu
1.2
Sicily_V1.2.vmod
Module
11.52 MB
2019-09-09
3.2.17
jeux12sl
GregD Herman Wu
1.1
Sicily_V1.1.vmod
Module
11.26 MB
2009-08-13
3.1
jeux12sl
GregD
1.0
Sicily_V1.0.vmod
Module
10.49 MB
unknown
unknown
kishel
jmlima, GregD
Comments
Version 2.22 Fixed Combat Markers bug, so that they always display above counter stacks. Added keyboard shortcuts for dice roll functions. Updated keyboard shortcuts summary sheet, moved it under Help menu as pdf. On main map, changed piece select highlight to red border. Back-end revamping of Prototypes for OCS markers.
Version 2.21 Corrects the 1 Arty Rgt counter of the Italian Napoli Division. The counter used in v2.20 was an errata counter issued in the GB2 game. However, the front side of the errata counter itself is incorrect per Dean Essig. Counter front side is now rectified to reflect the (original) leg MA, rather than truck MA.
Version 2.20 Upgraded counter graphics, courtesy of Dean Essig. For those wishing to upgrade vsav files of ongoing games: (1) Counter images will disappear when you first open the vsav file with v2.20, along with accompanying 'Bad Data in Module' error messages. This is expected. (2) Execute Counter Refresh under Tools menu. VERY IMPORTANT: check the (3rd) box labelled 'Use names to match modified Layer traits?' before proceeding with Refresh. Otherwise, all upgraded counters will revert to their base layer images.
Version 2.19 Incorporated Sub-menus to better organize drop-down menus for land/air/sea units. Added Combat Markers to facilitate PBEM. Streamlined text option of displaying step losses. Added reference sheet of commonly used keyboard shortcuts.
Version 2.18 Adjustments in folder structure to facilitate access to generic unit counters for both sides.
Version 2.17 Minor adjustments to ensure v3.6.x compatibility without generating error messages.
Version 2.16 Upgrades to v3.5 to enable Map Flare functionality. Mask graphics decreased in size to obscure less of the counter area for the friendly player.
Version 2.15 Adds Fog of War feature, so that players can mask all their desired pieces, except for Exploit and Out of Supply markers. Ongoing vsav files from v2.14 should be compatible by using Counter Refresh feature if using v3.3.2 (an error message will appear if using v3.4.x).
Version 2.14 Fixed a bug preventing Axis MUF markers from flipping back from their Fueled sides.
Version 2.13 A bug affecting Step Loss markers has been fixed. This version is only compatible with Vassal v3.3.
Version 2.11 A bug preventing the new Interdiction markers from being able to be removed has been fixed.
Version 2.1 A complete rebuild using recycled map and counter graphics from v1.x, while incorporating the latest standardized features of OCS Vassal modules, including counter highlighting and new Interdiction/Trainbusting counters. v1.x vsav files will not be compatible with v2.1.
Version 1.3 Hex grids have been modified to include separate holding box zones for more player options in using on map holding boxes. Stack separation settings, default zoom level, and mouse-over display settings also modified.
Version 1.2 Includes all 8 scenario setups, incorporating latest errata from Sep 2019.
Version 1.1 Includes Guderian's blitzkrieg II replacement units - redrawn of counters to better distinguish company, bataillon and brigade - action added to counters (possibility to hide/mask) - some scenarios setup added
Screen Shots
Players
Cogust
GregD
pmiranda
Preacher
crward
Cherper
motoi
Benedetto70
robarrieta
vrobinson
supersolid
Arlecchino
Jeff67
Seydlitz
jimcot
daxelos
Tom Beach
eclecticdog