Module:Sleeping Gods: Primeval Peril
From Vassal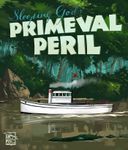 Files
Module Information
| | |
| --- | --- |
| Maintainer | Sanctum |
| Contributors | |
Comments
This module is created from the Print and Play free information released by Red Raven Games, no ownership of the intellectual property is implied.
Original files can be downloaded form: https://www.dropbox.com/sh/6gkevnk49njsi32/AADhcuC3PykttKSwKrWgcl4ya?dl=0

All the rules you need to play are in the Help menu in the module.

The module can be played either in Solo mode, or with two players, playing as Player 1 and Player 2 respectively.
All the counters needed are provided at the start of play on the ship board, some can be cloned as necessary and are an infinite supply,
others can not be cloned or deleted and are a fixed quantity defined in the game.
Crew and Fate cards can be moved to the Player Boards and Hands if desired.
The ship token starts on Map 1.
There are duplicates of all the tokens in the Pieces pop out panel, in case you run out of ones on the ship board.
You can track your game in the Captain's Journal, where each row or cell are interactive.

Screen Shots
Players