Module:Sniper!
From Vassal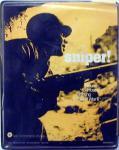 Files
Module Information
| | |
| --- | --- |
| Maintainer | madorosh |
| Contributors | madorosh |
Comments
Includes 1st Edition, 2nd Edition, Hetzer, Special Forces, and Patrol. Any interested playtesters feel free to contact me.
Sniper!
Just some notes on the Sniper! module - it will contain both the 1st Edition (original 1973 version) of Sniper! and Patrol, as well as the 2nd Edition Sniper! which combined elements of both games, as well as Sniper Companion Game #1 (Hetzer) and #2 (Special Forces). 17:13, 29 May 2010 (UTC)
UPDATE - 10 DECEMBER 2006 Sorry for the delay guys. Just found my Hetzer rules with a representation of the counters. Hope to get a full counter set for this working. I have a good start on the maps. Thanks for the emails of support.
Mike
Screen Shots
Players
madorosh
sticktrader
BillWhi
boycedaniel
paspas
jungleboie
daxelos
Ijumpajav
Ijumpajav