Module:Squad Leader
From Vassal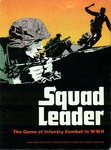 Files
Module Information
| | |
| --- | --- |
| Maintainer | Bill Thomson, Scott Bramley; Version 3.2.17; Brent Easton; Version. 3.3 |
| Contributors | wga, abishai, dennisj, jyanek, swampwallaby, BiLLSoz, A long list of names itemized in the Version History |
Comments
USING Vassal 3.4.4 and VSQL 4.3.1The latest release of Vassal is version 3.4.4 and will not load the existing VSQL.vmod version 4.2.2, or the test module version 4.3.0.
The VSQL-v431.mod module file has been modified to allow it to be loaded and used with Vassal version 3.4+. Changes have been made to the underlying Java code to maintain compatibility with the latest Vassal, but no changes have been made to the module itself. Until this version has been tested thoroughly under Vassal 3.4+, the Vassal 3.2.17/VSQL 4.2.2 combination remains the officially supported version for VSQL play. Note also the incompatibility with HiDPI displays noted below.
It is possible to install both Vassal version 3.2.17 and version 3.4.4 on your computer at the same time. Select the custom install option when installing Vassal 3.4.4 and retain your 3.2.17 installation.
If you use the VSQL-v431.mod without renaming it to VSQL.mod and have any extensions installed, you will need to re-install those extensions against VSQL-v431.
Please post any issues you find on the Vassal forum, or forward them to me at b.easton @ exemail.com.au
NOTE that there is a known incompatibility between the Vassal 3.4.4/VSQL 4.3.1 combination and HiDPI displays such as MacOS Retina displays. Some features will be displayed in incorrect locations, or appear blurry. Users with HiDPI displays should not upgrade to VSQL 4.3.1. I am working on resolving this issue.
USING Vassal 3.2.17 and VSQL 4.2.3
For best performance, use Java 8 Update 91. Works without issue on Macintosh and Windows. Note: VSQL 4.2.3 and its extensions will continue to be developed. Changes from VSQL 4.2.3 to VWQL 4.2.3 are not reflected in 4.3.1 Files are not compatible between Vassal Engine 3.2.17 and 3.3+.
VSQL is the VASSAL module for Avalon Hill's original Squad Leader Game. If you are looking for the more recent Advanced Squad Leader game, you need to look at the VASL module.
VSQL has the same advanced capabilities as VASL, but uses the Squad Leader counter set. The Basic VSQL module provides complete support for the base Squad Leader game, plus the first expansion gamette Cross of Iron. Additional Expansion module for Crescendo of Doom and GI: Anvil of Victory counter sets are available for tournament play, and provide full support for CoD & GIA play. An OPTIONAL expansion module DYO is now available which provides players with newer optional game play, currently contains Heat of Battle & Commissar rules.
Latest VSQL News: 210426: Be aware there are three main board sets, v4, v5, and v5SK. I have found LOS issues with v5SK on Macintosh but have no issues on WinXP, Win7. I recommend v5. But check with your opponent such both are using there are version. VASL is now into V6+; unlike VSQL, the boards in VASL are in the module and automatically downloaded as needed. The background programming language controlling LOS is within the board version. I never learned this. Bill Sosnicki had but has moved on to ASL.
VSQL 4 and associated expansion modules:
Main module: VSQL.vmod v4.2.3
Expansion module 1: VSQL4-CodGia Standard Version 9.1 (adds COD & GIA counters)
Expansion module 2: VSQL4-Coi-SS v2.1 (adds missing SS counters (SWs, AFVs, Guns) in all black)
Expansion module 3: VSQL4-Italians v3.1 (adds DTO)
Expansion module 4: VSQL4-Japanese v4.1f (adds PTO, plus Wild Bill Wilder's partial Blood & Sand module)
Expansion module 5: VSQL4-DYO v1.1 (adds optional rules for SL-GIA play, Notably Commissars & Heat of Battle)
Note: The VSQL3.x PLC.mdx expansion is now obsolete as PLCs can be named within VSQL 4.
VSQL Credits:
VSQL was created by Jeff Thorpe, Dennis Jorgenson, Bill Thomson, and Jay Yanek, with additional on-going support provided by Brent Easton, Pete Pollard, and Bill Sosnicki.
VSQL uses board files from VASL, downloadable here.
You can also find on the Internet the most current VSQL4 module along with its module extensions, custom scenario boards with LOS, additional scenarios, commentary, and lots of additional information about Squad Leader by going to the Squad Leader Academy website.
The 7 Guaranteed Steps to SQL Joy: [This section is somewhat obsolete, will be updated later. For assistance contact Bill Thomson; bill@wargameacademy for install help and training.]
1. Make sure you have Vassal 4.2.2 or 4.2.3 installed. [I am biased towards 4.2.3; Some will prefer the latest Vassal Engine 3.4+ not all players can use it due to system issues]. Simply download the file "VASSAL-v3_1_x Download release notification.pdf" which contains available links to the newest version of the VASSAL engine for your system.
2. Download the Squad Leader Game boards you need from above zipped files, extract them and place them in a convenient directory (such as "boards_v5"). To begin with, you will only need boards 1-4. There are now two different versions of boards available, version 4 with the older style and the newer version 5 boards with the newer SK style.
3. Go to the VASSAL VSQL 'Files' page (click link at top of this page) or at www.vassalengine.org
4. Download the most current file: VSQL.vmod
5. Download the "VSQL 4 Startup Survivors Guide.pdf" which is a 'How To' Survivors Guide for easy set-up of VSQL 4.
6. Now that you've set up Vassal 3.1.x and loaded VSQL 4 into it, now just click on the diamond shape next to VSQL and start the module.
7. Click on the Help menu and select 'preferences' and then follow the instructions on how to best set your VSQL preferences.
Screen Shots
Players
Athenashooter
swampwallaby
jyanek
abishai
dennisj
wga8888 <Bill Thomson>
Rick Billings
alpage2
SLer
JoeDeuter
czmielon
falconmaster
shaughnh
BiLLSoz
ravinhood
Badger
Chump
GalacticCmdr
unseen
baub64
Denny
dingo262
KingSwede
Celeborn
sun
DeadEyeGunner
stevecq
usapatriot1963
glasper
AndrewC
Iain
vonGarvin
platoon29
Kimble
MCharves
tassonik
dingo262
zabology
xmal
Mart
czmielon
Locke
Xiren
Rondor
aarondesk
SgtStinky
RedBishop
parmenion
marksheppard
TommieSL
BillWhi
MarkD
Razor
cutolo
ColSyverson
Twit
petewins1368
Deno
TRDG
Toreador
JokerRulez
ptconfer2429
BTrap
smaul1
lmcbean
KansasBoyd
davidkrobert
ceres66x
CptButler
toltesi
tibbs1026
czmielon
destroyer1963
TBeach
gre81
Pete4258
raaaf
Sligogamer
scotty
Jim
Scott
MikeJani
rikast
Resisti
ArkieGamer
Taggart
Donpaulo
HossB86
Moruya23
BlintzesWithKreig
blucid