Module:Squad Leader
From Vassal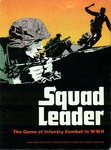 Files
Module Information
| | |
| --- | --- |
| Maintainer | Bill Thomson, Scott Bramley; Version 3.2.17; Brent Easton; Version. 3.3 |
| Contributors | wga, abishai, dennisj, jyanek, swampwallaby, BiLLSoz, A long list of names itemized in the Version History |
Community Resources
Learn to play SQUAD LEADER with Squad Leader Academy
Help installing VASSAL and VSQL page
Boards version five archive download
Comments
General
Avalon Hill's original SQUAD LEADER series is playable on VASSAL using the VSQL module and extensions. The module provides the complete game-set for SQUAD LEADER and CROSS OF IRON. The first extension provides the CRESCENDO OF DOOM and G.I.: ANVIL OF VICTORY game-sets. Additional extensions provide un-official nationalities and counters created by community members.
Boards must be unzipped and installed.
If you are looking for ADVANCED SQUAD LEADER, then the VASAL module is here.
Module Files
The current version of VSQL is 4.3.3. This release is in beta and not downward compatible with prior versions, therefore .vlog, .vsav and .SSF files are not interchangeable between the current and legacy modules.
Please post any issues you find on the Vassal forum, or forward them to Brent at b.easton @ exemail.com.au
Legacy Module Files
A number of SQUAD LEADER players are not running the current version of VASSAL. To accommodate these players, we are maintaining VSQL version 4.2.3. Java 8 Update 91 is recommended for Windows and Apple operating systems. You may install two versions of VASSAL, to run both current and legacy modules. See 'Running Two Versions of VASSAL' below.
Extension Files
Expansion module 1: VSQL4-CodGia Standard Version 9.2 (adds COD & GIA counters)
Expansion module 2: VSQL4-Coi-SS v2.1 (adds missing black SS SW, Ordnance and Vehicle counters)
Expansion module 3: VSQL4-Italians v3.1 (adds DTO)
Expansion module 4: VSQL4-Japanese v4.1e (adds PTO, plus Wild Bill Wilder's Blood & Sand module)
Expansion module 5: VSQL4-DYO v2.0 (adds optional rules for SL-GIA play, notably Commissars & Heat of Battle)

Scenario Start Files (SSF)
These Scenario Start Files are not maintained, and we don't recommend their use. SSFs are not compatible between versions. Their counters, VC, SSRs may be incomplete or incorrect, players should proof to the scenario card.
A warning about Concealment counters in SSF. This counter assumes the password of the user placing it on the board, and VSQL sees that password as the 'owner' of the '?' counter. If you place that '?' counter on infantry units, VSQL now sees those units as the opposing player's. You cannot remove or delete the '?' counter, and the units beneath are concealed forever. Do not use these '?' counters.
Likewise, changing your password will affect all .vsav, .vlog and .SSF files with placed '?' counters.
Boards
The current version of the boards are 5SK. However, older versions are still in use and players should agree which to use. There are differences in colors, terrain shape and Line of Sight between versions. Board v5SK LOS may not function properly on Apple OS. LOS is determined by the rules, use judgement reading the checker.
Archive board version 5 download.
Running Two Versions of VASSAL
Players may want to install both the current and legacy versions of the SQUAD LEADER module. Then two versions of VASSAL must also be installed. When installing the second VASSAL, select Custom Install and do not uninstall the current version. Linux or Mac must rename the older VASSAL program at installation.
Additionally, the modules (.vmod) must have different names (For example, the current named 'VSQL.vmod' and the legacy named 'VSQLv423.vmod'). Each module is added to its respective VASSAL and module preferences, boards, and extension are set independently.
The Seven Steps to SQUAD LEADER Joy
Install VASSAL first. If installing an earlier version of VSQL, see 'Legacy Files' and 'Running Two Versions' of VASSAL.
Download the most current VSQL.vmod, and place in a VSQL folder. Create subfolders 'ext' and 'boards'.
Download any extensions (optional) and place in 'ext' subfolder.
Download the boards. These must be unzipped/extracted and placed in the 'boards' subfolder. Restart VSQL.
Open VASSAL and add the module and extensions. Extensions are added by right-clicking the module.
Open VSQL and set preferences in Personal and General tabs, including name, password, board directory, auto-report moves, and Center on opponent's moves. Players with two monitors may uncheck the 'combined application' restart.
Play. There is an active community game and you can find a game at the SQUAD LEADER Ladder site, Classic Squad Leader Group in Facebook, the Squad Leader Academy site or the SQUAD LEADER page on BGG.

VSQL Credits
VSQL was created by Jeff Thorpe, Dennis Jorgenson, Bill Thomson, and Jay Yanek, with additional on-going support provided by Brent Easton, Pete Pollard, and Bill Sosnicki.
Screen Shots
Players
Athenashooter
swampwallaby
jyanek
abishai
dennisj
wga8888 <Bill Thomson>
Rick Billings
alpage2
SLer
JoeDeuter
czmielon
falconmaster
shaughnh
BiLLSoz
ravinhood
Badger
Chump
GalacticCmdr
unseen
baub64
Denny
dingo262
KingSwede
Celeborn
sun
DeadEyeGunner
stevecq
usapatriot1963
glasper
AndrewC
Iain
vonGarvin
platoon29
Kimble
MCharves
tassonik
dingo262
zabology
xmal
Mart
czmielon
Locke
Xiren
Rondor
aarondesk
SgtStinky
RedBishop
parmenion
marksheppard
TommieSL
BillWhi
MarkD
Razor
cutolo
ColSyverson
Twit
petewins1368
Deno
TRDG
Toreador
JokerRulez
ptconfer2429
BTrap
smaul1
lmcbean
KansasBoyd
davidkrobert
ceres66x
CptButler
toltesi
tibbs1026
czmielon
destroyer1963
TBeach
gre81
Pete4258
raaaf
Sligogamer
scotty
Jim
Scott
MikeJani
rikast
Resisti
ArkieGamer
Taggart
Donpaulo
HossB86
Moruya23
BlintzesWithKreig
blucid
mickey
Andrew Polak