Module:Star Fleet Battles Cadet Training Manual
From Vassal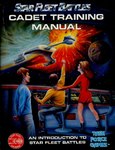 Files
Filename
Filetype
Size
Date
Compatibility
3.1
SFBCADETv3p1p1.vmod
Module
71.56 MB
2021-20-28
3.2.17+
Module Information
| | |
| --- | --- |
| Maintainer | LJLeBlanc |
| Contributors | Jeremy Gray / Andy Palmer |
Comments
Description of version changes are in the "Help" menu "Version history".
It takes almost a minute to initially load the module on older computers so please be patient.
This is an official "SFB Cadet module" for vassal. Allowed by ADB
The Star Fleet Games (ADB) Website
Contacting players on Facebook
Ask question or find a player.
Screen Shots
Players