Module:Star Saga: One – Beyond The Boundary
From Vassal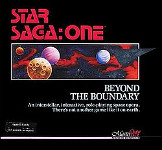 Files
Module Information
| | |
| --- | --- |
| Maintainer | Michael Sternberg |
| Contributors | |
Comments
STAR SAGA: ONE - Beyond the Boundary was a hybrid computer/board/paragraph-based/role-playing game for 1 to 6 players created by R. Dutton, W. Freitag, A Greenberg, M Massimilla of Masterplay. This is an attempt to preserve a semblance of the original experience by providing the non-digital components necessary to play. It will require running the software portion of the game on either a real or emulated Apple II/IIgs or IBM PC.
Version History
0.4 2014-07-23 Initial offering.
0.6 2014-09-21 Corrected issue with embedded HTML help and image paths, reduced file size by removing redundant image files.
0.7 2014-11-23 Corrected problem with scans of passages 12 and 13.
Screen Shots
Players