Module:Star Trek: Fleet Captains
From Vassal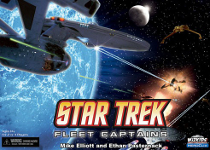 Files
Module Information
| | |
| --- | --- |
| Maintainer | Gherardo |
| Contributors | Chris Larkin, chienge |
Comments
v.1.5
Major release: Adds 6-player support, better support for team-playing. 1.4 Borg module works just fine with this version.

v.1.4
Major release + Romulan Empire expansion.

v.1.31
Minor feature update, cloak tokens can be flipped.
v.1.3

Star Trek: Fleet Captains, designed for two to six players, is set in the "Prime Universe" of STAR TREK. Each player begins play with a fleet of ships and starts at opposite ends of an unexplored sector of space. This sector of space is represented by hexegonal cards (which are shuffled before play and placed face-down in a pre-determined pattern). As each ship progresses through the sector, you turn the tiles face up, revealing what is in that part of the sector (a Class-M planet, a Class-J Nebula, empty space, etc...). Hopefully you will discover and acquire resources while simultaneously denying them to your opponent(s).
Screen Shots
Players
Gherardo
Morpheus
Eric
Chris Larkin
littlebull76
Richard Krafty
bdgza
Kevin Rohrer