Module:Starship Troopers
From Vassal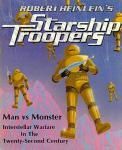 Files
Module Information
| | |
| --- | --- |
| Maintainer | Bill Thomson(wga), Mycenae, ru5150 |
| Contributors | abishai, Badger, Mycenae, wga, jw62, Dren608 |
Comments
Lonestar 1.00.1:
Problem found Lonestar 1.00 module -- hidden tunnels and complexes visible to Terran player:
From the forum: I did a little digging myself and came to the same conclusion there is a typo under the definition of ArachnidInvisible. The player side is stated as "Alien" instead of "Arachnid". After changing "Alien" to "Arachnid" the hide option works perfectly for all new units taken from the counters menu.
There is still an issue with the preloaded scenarios as the pieces that are already placed on the board and in hive complex cannot be hid (probably because these games states were created with the typo). But this is pretty easily fixable simply by deleting the preexisting hive complex and making a new hidable complex from the counters menu.
Lonestar 1.01:
Update of Lonestar1.00.1 - This a very minor update went through and reset all the predefined Scenarios with Arachnid side involved to have hidden tunnel complex start on map. I tried contacting original creator and got no response, as this is a very minor update I am uploading it. - FHB
Lonestar 1.3.1:
Update masking rules by making 2 new sides (Terran/Humanoid, Arachnid/Humanoid), update die roll mechanic, updated predefined scenarios to have all SW&E for Terran (some was missing in off board card at start), some LD/ST markers for use by Terran in scenarios that they have those, update turn sequence counter to match scenarios who moves first etc. (including new sides).
Lonestar 1.3.2:
Scenario 2 predefined set-up was corrupted had two complexes worth of units.This should fix that
Lonestar 1.3.3:
Updated and tested Pre-defined Scenarios, added 2 new sides to TCS/Bug complex windows, added additional mask restriction on Terran "dropped SW&E" to be Terran and Terran/Humanoid sides (and solitaire of course)
Lonestar 1.3.3.1:
Updated the default Flare that is added in 3.5.x from Alt main mouse key CTRL+ALT+ Main mouse click. It was giving away Arachnid Hidden unit/tunnels as they use ALT to be selected.
Screen Shots
Players
wga
ru5150
Mycenae
abishai
Badger
jw62
dgarsys
akulkis00
boycedaniel
ChandlerB
Chiggy
chovesh
CrushU
ctewks
Darksan
DerDiplomat
DMarcus7
ETPxPa1adin
GornTC
LordJesse
MCharves
MJW
Profit
pseg
Relvig
sabreman1966
steva
tribedown
wargamer55
yangtze
zardoz582000
davidk64
ScottR
blucid
Dren608