Module:Storm Over Arnhem
From Vassal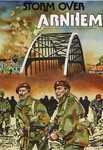 Files and Module Information
Comments
Version 3.0 Mapboard updated to a scan of the actual mapboard.
Version 2.1 Updated Royal Army Service Corps piece and British setup cards to a 3-6-5 instead the incorrect 2-6-5. Updated German setup cards to show three 4-5-8 armor instead of just one. Created a deck of British Reformed Units
Version 2.0 Company HQ counters are now specific to the company they go with. Added setup cards to hold the initial pieces. Includes counters and save file for The Crossing variant
Version 1.1 Converted from an ADC module - Version 1.1 improved to report on area movement (instead of all pieces just moving offboard to offboard). Starting positions placed and hopefully grouped more logically. Small improvements to turn track and VP reporting.
Version 1.01 Japanese version
Screen Shots
Players
jbru362
Gorgoneion
Bish
RDW
daxelos
TommieSL
MikeO
daxelos
ambush
bdgza
sushidog
Ulv Miller
etopp62
Pierre
Mark Daley