Module:Strafexpedition 1916
From Vassal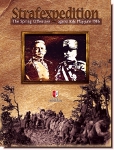 Files
Module Information
| | |
| --- | --- |
| Maintainer | Peter Dietrich |
| Contributors | Pierre Miranda |
Comments
This Module was approved by Nicola Contardi of Europa Simulazione, 2012.
vers 1.02: corrected wrong frontside of AH XX AK Hvy Art; added Solo-Player (Thanks to Mike Bowen for both).
vers 1.03: Three missing units added. (Thanks to Tomas Reixach)
vers 1.04: adding Campaign Map including Valsugana Extension
vers 1.05: adding Turn Marker. (Thanks to Tomas Reixach)
vers 1.06: Corrected some oversized Marker-Counter. Added Logistic-Track markers for Valsugana
vers 1.10: Eliminated sides. Reorganized counters. Replaced disorganization counters with text label. Added assault arrow counter.
vers 1.08: Corrected misfunctioning Player-Roles. Added Campaign SetUp. Added Reinforcement Charts. Reorganized Counter Trays.
Screen Shots
Players
Rick Galli
Pierre Miranda