Module:Strategy of War
From Vassal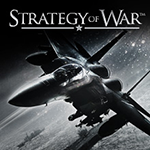 Files
Module Information
| | |
| --- | --- |
| Maintainer | bdgza |
| Contributors | bdgza |
Comments
Posted with permission from Fadescape Studios.
More information: www.strategyofwar.com
BGG game page: http://boardgamegeek.com/boardgame/123752/strategy-of-war
Download the game rules from this page: www.strategyofwar.com/support/downloads
Strategy of War is a turn-based card game that pits players against one another in pursuit of victory on the field of battle.
You command the forces of Aircraft, Infantry, Warship, Armor, and Politics as a military force of destruction.
You can use each of these divisions independently or combine them to create a formidable military force. You'll have many assets at your disposal, including Units, Leaders, Attachments, and other tactics. You build a customized deck of 50 cards that utilize the powers of force and diplomacy all in an attempt to be the final Commander on the battlefield.
Strategy of War is not a CCG! Everything you need to play is in the box.
This module contains the Print&Play decks available for download from the Strategy of War website. These decks allow you to experience the Strategy of War game.
Strategy of War can be played with 2 or more players, but this module currently only support 2 player games.
Screen Shots
Players