Module:Super Dungeon Explore
From Vassal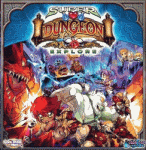 Files and Module Information
Comments
Adventure awaits in Super Dungeon Explore! Battle through perilous dungeons, fight hordes of monsters and collect loot with your own customizable adventure party of brave Heroes! Or take the roll of the dungeon's Dark Consul and unleash hordes of evil minions and other monstrous denizens to turn meddlesome Heroes into your dungeon's newest permanent residents.
Version 1.1.2 is the same as Version 1.1.1, though it disables the popup die results when rolling the dice. It still displays the result the log window.
Version 2.0.1 is a significantly modded version of the previous ones. It also includes the Caverns of Roxor Expansion.
Screen Shots
Players