Module:Swashbuckler!
From Vassal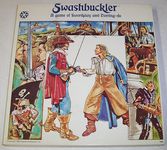 Files
Module Information
| | |
| --- | --- |
| Maintainer | Skalla |
| Contributors | Skalla,Razor |
Comments
Version 1.3 uploaded.
Updated Character sheet to include Right and Left Hand weapons. Added the blank side of the back of tables, chairs and mugs counters to indicate their broken status when flipped. Added Prone and Dead status to character counters. Changed the rotation to 8 sided for all items so that swords and knives can be shown travelling diagonally when thrown that way.
Version 1.2 now up. See below for suggestions on how to play
Instead of written orders, I decided to use order chits. Clone your character counter and put him on the right side of the board. Then place 6 of the order chits of your color in the rows labeled 1-6 alongside your character. Mask them, then type in the order abbreviations or spaces as need be. Then all players can reveal their orders. I recommend carrying over any pause or stuns face up for the start of the next turn. Hope that makes sense.
Screen Shots
Players
Skalla
Bizzio
sistino
Bozimus
raestuart
Razor
KevinRohrer
gjdad
paspas
ChaosWolf
davidk64