Module:T.I.M.E Stories
From Vassal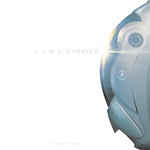 Files
Module Information
| | |
| --- | --- |
| Maintainer | Ramon Ruiz |
| Contributors | |
Comments
The T.I.M.E Agency protects humanity by preventing temporal faults and paradoxes from threatening the fabric of our universe. As temporal agents, you and your team will be sent into the bodies of beings from different worlds or realities to successfully complete the missions given to you. Failure is impossible, as you will be able to go back in time as many times as required.
T.I.M.E Stories is a narrative game, a game of "decksploration". Each player is free to give their character as deep a "role" as they want, in order to live through a story, as much in the game as around the table. But it's also a board game with rules which allow for reflection and optimization.
(from the BoardGameGeek)
The purpose of this module is to provide an environment for designers that allows to playtest in an easy, fast way. Once all the cards are set up, changing the design of the cards is fairly easy, accessing to the corresponding extension via WinRAR and replacing the specific images.
time_stories_x.x.x.vmod contains the core game of T.I.M.E Stories, with all the game pieces and boards, but no scenario. Scenarios may be loaded as extensions, which can be found in the Discussion page.
Screen Shots
Players