Module:Tank on Tank
From Vassal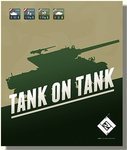 Files
Module Information
| | |
| --- | --- |
| Maintainer | Vance Strickland |
| Contributors | Vance Strickland |
Comments
Version 1.0 update
Reoriented maps to horizontal position for better viewing.
Added pieces from Line of Fire #8.
Tried to fix draw cup functionality.

From the publishers website:
"June 6, 1944.
The Allies land in Normandy to liberate France from German rule. The liberation however, won't be an easy road. From D-Day at Omaha Beach, through the battle for Normandy, the Allies will fight the Germans tooth and nail, bayonet and rifle, tank on tank."
Tank on Tank is a new Peter Bogdasarian design. A smaller game that can be learned in less than five minutes and played during a lunch break, Tank on Tank depicts tactical ground combat in Europe in the latter years of World War II.
Screen Shots
Players