Module:The Army of the Heartland: The Army of Tennessee's Campaigns, 1861-1863
From Vassal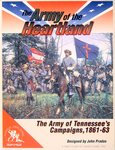 Files
Filename
Filetype
Size
Date
Compatibility
0.96
AoH.vmod
module
14.44 MB
2016-05-04
3.1
Module Information
| | |
| --- | --- |
| Maintainer | Tony Hicks |
| Contributors | |
Comments
The module is updated to include the scenarios 19.1, 19.2, and 19.5. Also, I made some improvements on the Sequence of Play and other items. Work will continue until all scenarios are in the module.
[Oct. 2017] I am sorry for my lack of attention to this module. I hope to refocus and complete it by adding all the scenarios.
[July 2020] I will not be doing any more modifications. The module still needs other scenarios. If anyone wishes to do more work, I will cooperate to the extent I can. Contact me. - Tony
[April 2021] Okay, maybe I will revisit this. I'm feeling energized and want to make this project better. At least I want to complete all the scenarios. Contact me if you are interested.
Screen Shots
Players
Tony Hicks
Giorgio Clavelli