Module:The Blitzkrieg Legend: The Battle for France, 1940
From Vassal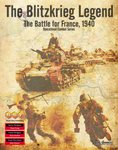 Files
Module Information
| | |
| --- | --- |
| Maintainer | Herman Wu |
| Contributors | Bill Gustafson Jeff Coyle |
Comments
5.06 Decreased size of Mask graphics to obscure less of the counter area for the friendly player.
5.05 Counter updates to the 3 brigades of British 50 Inf Div (changed the counter sizes from Rgt to Bde). Updated to v3.5.8 to enable Map Flare functionality.
5.04 Fixed bug involving Step Loss marker placement for the German 1 Mtn and 1 Cav Divs. Added an Inventory-All function alongside the existing Inventory-Map function. Updated Inactive aircraft graphic to larger red version for better visibility.
5.03 Fixed a bug so that Allied MUF units are now placed in the correct Allied (not Axis) Dead Pile.
5.02 Added Fog of War functionality, so that players can now Mask all desired pieces, except for Exploit and Out of Supply markers. Also revamped order of arrival displays. Ongoing game vsav files from v5.01 will NOT be compatible with this version.
5.01 Minor update to unit masking function to make it identical with other OCS modules.
5.0 non-FoW update: new module incorporating George Hayward's counter and map graphics, along with latest standardized features of OCS modules. Features include counter highlighting functions, menu option for Kleist HQ's to build airstrips, dedicated Spitfire patrol zone for the naval Flotilla counter. All scenarios setups reviewed and updated to be consistent with Sep 2019 listings.
George Hayward developed all of the Fog of War (FOW) enabled OCS modules. Sadly, he passed away in June of 2013. I (Bill Gustafson) have uploaded the most current FOW OCS modules from his now defunct web page, and have removed references to that web page and his email address. If you have more recently updated modules please let me know, and I will upload them. If you find bugs with the existing modules you can also let me know, and I can try to fix them. I do not have copies of the previous versions of the modules, so if for some reason you want those to be centrally available, please email me and tell me where to get them.
4.26 Custom code recompiled for Vassal versions 3.2.14+
Latest Versions of all FOW OCS Modules will be put in a centralized web location at some point in the near future.
Instructions on how to use all 4.0 modules can be found by pressing the "Module Use Instructions" button in the module. Failure to read the instructions will lead to frustration.
With permission of MMP
Screen Shots
Players
jeb123
duron600
Some Guy
Rick Galli
Ulv Miller
Treespider