Module:The Boss
From Vassal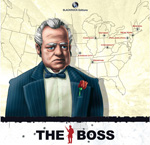 Files
Filename
Filetype
Size
Date
Compatibility
1.1
theBoss.vmod
Module
14.23 MB
2010-10-07
Module Information
| | |
| --- | --- |
| Maintainer | Gaëtan Beaujannot |
| Contributors | |
Comments
Forty cards, 45 wooden pieces and a small board to make the law in the U.S.
The gradual discovery of information will guide your choices as to the cities that you want to control with your gang. At the end of each round, if you are in the majority in a city, you can enrich yourself – or you might suffer due to your carelessness! Deduction, bluffing and initiative will all be required to become The Boss.
Module by VassalForge. You can find the Module here Rules in French, English and German in module.
Screen Shots
Players