Module:The Burning Blue
From Vassal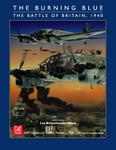 Files
Module Information
| | |
| --- | --- |
| Maintainer | rickbill |
| Contributors | rickbill |
Comments
GMT Games LLC and Lee Brimmicombe-Wood's game about the Battle of Britain, 1940
Thanks to the playtesters: Kevin Ankoviak, Evin Mulron, Torsten Spindler, and Mark Wardell.
Thanks to Lee Brimmicombe-Wood and GMT Games LLC for allowing me to release this module.
Thanks to Allan Cannamore for creating the fine Cyberboard Gamebox of which this module is a conversion.
If/when you discover bugs, please [email]

The current version is Version 1.3
Changes from Version 1.2 to 1.3:
Updated main map with cleaner image to make map features clearer
Added a new hidden window "LW Airfields" which allows for available LW units to be placed at their airfields for easier planning by dragging units directly from this window to the raids hidden map.
Recreated setup files for all 5 main scenarios. These include Brit units already placed on tote and LW units in the LW Airfields window at their appropriate airfield for the scenario.
Changes from Version 1.1 to 1.2:
Modified unit names to adhere to British Squadron designations
Added Delete command to TALLY HO and ORDERS chits
reduced setup files to only 1st 2 scenarios and the into

Changes from Version 1.0 to 1.1:
Modified commands so climbs and dives can be done with keyboard arrow cmds (alt-UP/DOWN)
Modified commands so unit movement can be done with keyboard arrow cmds (ctrl-UP/LEFT...)
Supplied startup files for scenarios 1-5 (and the intro)
In addition to the Tote Board setup, Luftwaffe units are placed at scenario airbases
Fixed a couple of OOB errors/ommissions
Fixed a bug with the Detection Card discard command
Screen Shots
Players
czmielon
tobias
rickbill
PNMarkW2
E
Toadkillerdog
kankoviak
Leftie
Bridge
robarrieta
xrubio
jjtaylor37
Minaya
Preacher
akuusi
zylon1234
cornjob
asdnart
borat
DRZ
miker42
KaelRandir
WgCdrSpry
abithel
pupikiza
muzzle
wargamerx
netWilk
cornjob
sedecula
daxelos
KaelRandir