Module:The Devil's To Pay
From Vassal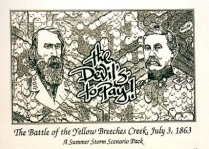 Files
Module Information
| | |
| --- | --- |
| Maintainer | L.Trowbridge |
| Contributors | |
Comments
Devil's to Pay is an extension of Summer Storm, Rick Barber's Operational/Tactical Gettysburg game, published by Clash of Arms. It is an alternate history scenario that postulates that the Gettysburg campaign resulted in battle a couple days later and further north than the historical outcome, at the town of Dillsburg.
Four files are included here, the Vassal Module (.vmod) including two starting positions, one for the Tactical game and the other for the Operational game. The other three files are PDFs, one giving an overall description of the module, and the other two describing the starting positions and order of appearance for the two games.
This module is posted with the permission of the original games' designer, Rick Barber, and of Ed Wimble of Clash of Arms, the publisher of Summer Storm and Devil's to Pay.
Rev 3 replaces the ADC2-derived Tac map with a scan (provided by Rick Barber) of the hardcopy Tactical Map, and updates the descriptive files. Rev 3a updates the Terrain key.
Screen Shots
Players