Module:The Guns of August
From Vassal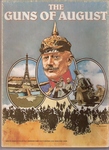 Files and Module Information
Filename
Filetype
Size
Date
Compatibility
Developer
Other Contributors
1.1
GoA_v11.vmod
Module
6.8 MB
2017-10-28
3.2.17
Gianfranco Cianchetti
Charles, Bill Thomson(wga), jw62, swampwallaby
GoA_Rails.vmdx
Extension
26.42 MB
2017-10-28
3.2.17
Gianfranco Cianchetti
Tom Cundiff,Charles, Bill Thomson(wga), jw62, swampwallaby
1.0b18a
GOA Rail.vmod
Module
61.29 MB
2017-03-10
3.211
Tom Cundiff
Charles, Bill Thomson(wga), jw62, swampwallaby
1.0b18a
GoAv10b18a.vmod
Module
10.9 MB
2014-03-13
3.211
Charles
Bill Thomson(wga), jw62, swampwallaby
1.0b16
GoAv10b16.vmod
Module
10.93 MB
2012-03-06
unknown
Bill Thomson(wga)
jw62, swampwallaby
1.0b15
GOAv10b15-edit.vmod
Module
3.04 MB
unknown
unknown
Bill Thomson(wga)
jw62, swampwallaby
1.0b12
GOAv10b12.vmod
Module
4.03 MB
unknown
unknown
Bill Thomson(wga)
jw62, swampwallaby
1003
GOAv1003.vmod
Module
8.97 MB
2011-07-31
3.1.15
Cartwright
1001
GOAv1001.vmod
Module
8.56 MB
unknown
unknown
Cartwright
Comments
Initial phases of creating this module while updating rules to the Third Edition. Game is Rob Beyma's elegant simulation of attritional WWI campaigns. goal it so define a tournament scenario and administrate a tournament. By the nature of the event is simulates, this is a game of attrition rather then tactical manuever.
Version 1.1 (2017-10-28)
Some bug fixing. Removed unused parts in order to be more lightweight. Added Boardgamer 9-4 mod on railways as an extension, which can be accessed using the 1914 scenario on the bottom of the list of scenarios.
July 6th, 2009 Update:
I've added a new updated version (1001). This corrects a handful of miscellaneous issues with the previous version and makes the map more responsive.
This uses the Wargame Academy Vassal Team template (Easton, Thomson, Wise). Images are created within Vassal; larger scale (bigger hexes) maps & counters, prototypes, and the latest counter traits.
Version 1001
The v1001 module removes individual unit designations. This is a fork, not a straight revision of the older modules.
July 31st, 2011 Update:
New updated version (1003). Corrects Help menu. Adds historical startup scenario.
Screen Shots
Players
PRodgers
jtcourtne
JoanRiko
Don Lazov
MarkinSA
pzlehr
DerDiplomat
BigDave
rfdoane
smaul1
VonBrunt
Fersboo
Cartwright
JokerRulez
destroyer1963
cianchet
dcronin1981