Module:The Korean War
From Vassal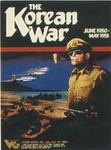 Files and Module Information
Filename
Filetype
Size
Date
Compatibility
Developer
Other Contributors
2.0a
Korean_War_v2.0a.vmod
Module
29.94 MB
2020-05-25
3.2.15
Judd Vance
almogaver1969
1.1
Korean_War_V-1-1.vmod
Module
25.51 MB
2017-04-09
3.2.15
Judd Vance
takagi
1.0
Koreanwar.vmod
Module
5.37 MB
unknown
unknown
takagi
Kos1.vsav
Scenario 1 Save
4 KB
unknown
unknown
takagi
Kos2.vsav
Scenario 2 Save
3 KB
unknown
unknown
takagi
Kos3.vsav
Scenario 3 Save
4 KB
unknown
unknown
takagi
Kos4.vsav
Scenario 4 Save
4 KB
unknown
unknown
takagi
Koscamp.vsav
Scenario Save
3 KB
unknown
unknown
takagi
Comments
There are some automated features in the game. Click the "Read Me" button on the icon menu bar.
Notes about the v2.0a version:
Based on the V-1-1.vmod. This version replaces 2.0
Changed the orientation of the maps to vertical style.
Added hexgrid coordinates to the maps.
Corrected a bug with step loss of Division sized units.
Screen Shots
Players
takagi
cliffhansen
ftarzanin
daxelos
yankeeap
daxelos
dbeaver
Pierre Miranda