Module:Too many Bones
From Vassal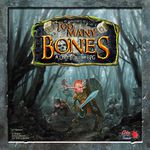 Files
Module Information
| | |
| --- | --- |
| Maintainer | gattsu |
| Contributors | |
Comments
Too Many Bones comes loaded for bear by breaking into a new genre: the dice-builder RPG. This game takes everything you think you know about dice-rolling and turns it on its head. Dripping with strategy, this fantasy-based RPG puts you in the skin of a new race and takes you on an adventure to the northern territories to root out and defeat growing enemy forces and of course the infamous "baddie" responsible.

Version 1.0 This is the first draft of a Vassal module for the Adventure Game "Too many Bones". The Module includes the Base game Components.
© 2017 Chip Theory Games. All rights reserved. Included by permission of the publisher
Please support Chip Theory Games!
Screen Shots
Players