Module:Transformers Trading Card Game
From Vassal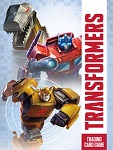 Files
Module Information
| | |
| --- | --- |
| Maintainer | Titansbane |
| Contributors | |
Comments
Transformers TCG is produced by Wizards of the Coast. As always, users must buy a physical copy of any game they play on Vassal. Version 1.0 Contains Wave 1 and Rise of the Combiners. I will update content for future waves when it becomes available.
To play, build and save a Battle Card deck of at least 40 cards. Then choose Character Cards up to 25 stars. Please note that some Battle Cards also have a star value and players may not exceed 25 stars total between Character Cards and Battle Cards in a standard game.
All Battle Zone Maps include player areas, battle zones for dealing Battle Cards, an Active Action Card area, and a KO area for defeated characters.
Version 1.0.1 includes a dice roller for choosing first player and an "Untap All" button in the Battle Zone. I have also included a help file describing how to make battle decks and play a game in the mod.
Screen Shots
Players