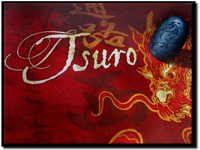 Files
Module Information
| | |
| --- | --- |
| Maintainer | bugggg |
| Contributors | bugggg |
Comments
We've found that it's best to determine play order based on the order of the player hand buttons at the top.
If the players remember to click "End Turn", it should not be easy to lose track of the current player.
Version 0.4.1: Added "None" to the Dragon Tile Owner counter. Made some user-requested usability enhancements.
Version 0.4: Removed the physical Dragon Tile and replaced it with a "turn counter" that can be docked in the top status bar.
Version 0.3.1: Fixed a problem with a tile that was unflippable.
Version 0.3: Added snap-to behavior for pieces.
Version 0.2: Fixed broken player hands and added zoom capability.
Version 0.1: Initial release.
Screen Shots
Players
bugggg
SuperBrian
Vataro
Sc0tt
Lyfeternl
Caitlinface
Daimakaicho
Yougurt87
Tux3378
Caleb
Valkyrie
Ragnarokilo