Module:Tunisia
From Vassal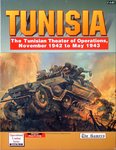 Files and Module Information
Comments
v5.0 An updated version of this classic game, without the custom code that Vassal v3.6 no longer supports. Has uniform features common to all other current OCS modules. Module is mainly for historical interest. Given errors and omissions in the OOB (all corrected in Tunisia II), it is highly recommended that Tunisia II be used for actual game play.
George Hayward developed all of the Fog of War (FOW) enabled OCS modules. Sadly, he passed away in June of 2013. I (Bill Gustafson) have uploaded the most current FOW OCS modules from his now defunct web page, and have removed references to that web page and his email address. If you have more recently updated modules please let me know, and I will upload them. If you find bugs with the existing modules you can also let me know, and I can try to fix them. I do not have copies of the previous versions of the modules, so if for some reason you want those to be centrally available, please email me and tell me where to get them.
Latest Versions of all FOW OCS Modules will be put in a centralized web location at some point in the near future.
Instructions on how to use all 4.0 modules can be found by pressing the "Module Use Instructions" button in the module. Failure to read the instructions will lead to frustration.
With permission of MMP
Release Notes:
rc2 fixes a problem where a player couldn't control his own pieces in an on-map box
version 4.x Now includes Fog of War thanks to George Hayward. Does not include the replacement counters included in GBII and chrismass counters 1995 and 2000.
version 3.12 includes replacement counters included in GBII and chrismass counters 1995 and 2000 - and errata's. Units Removed per Dalla's research : 13 Corps HQ, 1 Greek (50th Inf), NZ 4 Inf Bde (2 NZ), 161 Ind Inf Bde (4 Ind), Ge 125 Inf Rgt (164 Le PG), Railhead markers. With beveled counters
4.26 Custom code recompiled for Vassal versions 3.2.14+
Screen Shots
Players
bennyb
DerDiplomat
robarrieta
oleg
pzlehr
rhammond
motoi
JanWels
kurtmeyer41
Cogust
crward
Kristian
fgbelmon
mikeb13603
SgtStinky
sidi45
vrobinson
wargod
DonLazov
OHWAAC
rockydadog
Leftie
Preacher
supersolid
ftarzanin
BugDany
Arlecchino
KaelRandir
jimcot
daxelos
eclecticdog
BigDave