Module:Twin Peaks
From Vassal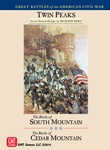 Files and Module Information
Comments
South Mountain revised 1/18/2022 (1.4) to add Abandoned Artillery Marker; change Ammo Depletion to current system progression; to add Scout/Trailhead markers (in Union units tab) and to change the Rotation commands to Ctrl-. and Ctrl-, . Also, an Orders marker was created with all three statuses in layers on one marker.
South Mountain revised 1/07/2022 (1.3) to address issue with AMs not masking
South Mountain added 4/24/2015 (1.00)
South Mountain revised 5/5/2017 (1.01)
South Mountain revised 3/30/2019 (1.2)
Cedar Mountain added 11/06/15, with a similar graphic and design package as South Mountain.
South Mountain revised 3/30/19
CSA Macbeth battery was missing; this has been added to relevant scenarios
Four battalions of the Union Hartsuff Brigade were missing: 11PA a, 11PA b, 83NY a, and 83NY b; these have been added to relevant scenarios
South Mountain revised 5/5/17
Fatigue Level "OK" was missing from Brigadier counters; this was corrected
Added a toggleable SP counter as an optional marker for those wanting to better replicate physical play
Some markers combined, such as May/Must Advance, Refuse Left/Right
Cedar Mountain updated to 2.02 4/4/16 to address a few small issues and to consolidate/reduce markers.
6VAa regiment dismounted now has a disordered side
Cavalry regiments have their own Charge! and Blown markers (as they can act independently of their parent brigade)
Deployment markers now cast an "area of effect" to aid in set-up
Attack and March orders "markers" created for use with independent cavalry regiments
Overmove layer added for Corps commanders; toggle on when a Corps Cmdr exceeds his 10MP allowance to retain their influence radius, the radius notation will be changed to 0.
Each side now has its own movement trail color.
Cedar Mountain v2.21: Fixed a few more marker issues (some not rotating when flipped); Banks' counter still not cooperating, however.
Cedar Mountain v2.20: Fixed a bunch of issues: Replaced Banks' counter (wasn't rotating properly); fixed two CSA dismounted cavalry units, whose disordered sides would not display; fixed mouseover not showing SP markers; added an Abandoned Guns counter to reflect latest series rules; Added a consolidated Orders counter for use on map (not on Brigadiers); now toggles through Attack, Advance and March.
Cedar Mountain v2.10: Added a Strength Point marker, which can incremented to reflect either current unit strength or losses. For that "just like a physical copy" play (at the cost of map clutter and larger stacks)
© GMT Games 2014; Greg Laubach and Richard Berg Design
Screen Shots
Players
Greg Laubach
Allen Dickerson
Monte