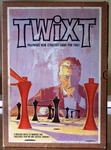 Files and Module Information
Comments
Invented by Alex Randolph in 1958
First published by 3M in 1962
Modules 1.1 and 1.2 Created by: David Jonathan Bush
Thanks to Brian Mason for version 1.0, and to Russ Williams for help with the 1.1 splash screen.
Contact me at twixtfanatic atsymbol gmail period com
Version History
1.0 Initial offering
1.1 Added more help pages, snap to grid, variants
1.2 Made the pegs bigger. Added hollow circle pieces for post mortem analysis.
Screen Shots
Players
brian448
Twixtfanatic
Peyrol (Twixtfanatic's sock puppet)