Module:Unbroken
From Vassal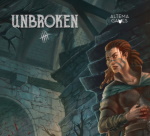 Files
Filename
Filetype
Size
Date
Compatibility
1.0
Unbroken_1.0.vmod
module
9.65 MB
2022-01-21
3.6.4
Module Information
Comments
Unbroken is a solo card game that is quick to set up and play but one that will produce a tense challenging experience.
You will collect resources representing your character's abilities and will need to ensure that you invest in a right mix of resources to both keep yourself alive during your travels and also prepare for the gruesome monsters that wait in the dark. There are several options at your disposal - brute force, trickery, clever use of skills.
Customize your character and use your limited resources wisely - only the craftiest and the most resilient survivors will make it out alive.
Version 1.0 This is the first version of a fan made Vassal module for "Unbroken".
I added some convenient features.
A click on the skill slots draws a skill card.
The same works for the encounter cards.
A click on most cards discards them.
The condition cards can be drawn the same way as skills and encounters. But before the card is drawn the player can choose the condition in a pop up list.
A click on a tracker moves it left or right depending on the clicked side.
The weapon and character are layered with all images. This enables the player to page through all characters or weapons by clicking the left/right side of the Character/Weapon.
A click in the lower center of the Character Card chooses a random Character
If you like the game please consider to support Altema Games and buy Unbroken.
© 2018 Altema Games. All rights reserved.
Screen Shots
Players